The Community Profiles present a number of relevant statistics specific to each community. The map below indicates the location of each community, the table below that displays links for each pdf and the section at the bottom explains the source and update date of each statistic category. 
---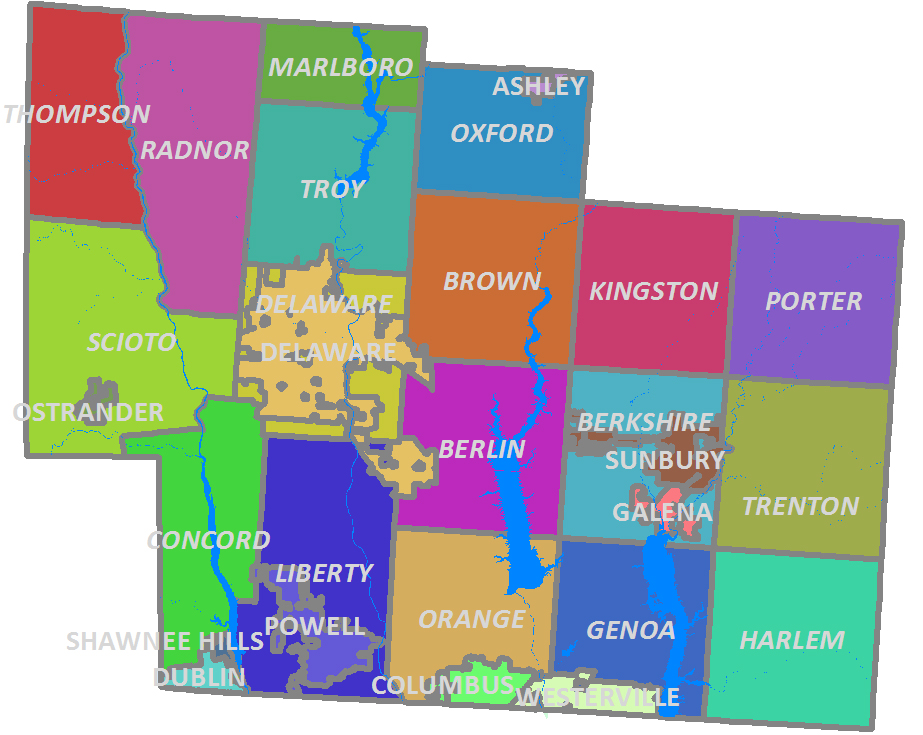 ---
Description of Community Profile data
Building Permits
Building permits are collected from Code Compliance and incorporated jurisdictions. For the purposes of this report, Multi-Family includes single-family detached units, if developed under a condominium declaration.

Population
Population is collected from Decennial Census information to 2010 and then DCRPC population projections to the current year.

Property Valuation
Property valuation is collected from information from the Delaware County Auditor. Sectors are defined by the Auditor. Valuation in incorporated areas is removed and located in the Municipal section.
Land Use Mix
Land Use Mix is collected from the County Auditor's information, created for tax purposes. It typically reflects how land is used and not how it is zoned. Note: Open Space includes Golf Courses, Parks, and Open Space Areas. Right of Way includes Roads and Railways.
Effective Tax Receipts
Effective Tax Receipt information is provided by the Delaware County Treasurer and only represents taxes that apply to entire townships/municipalities (not special districts and other taxing functions).
Housing Mix
Housing Mix uses Auditor-based housing data points which may contain units that are not yet occupied.
Ethnic Mix
Ethnic Mix uses ethnicity collected as part of the 2000 and 2010 Decennial Census. Some adjustments have been made to generally reflect where actual municipal boundaries may be different than those reflected in the Census.